How can a human factors approach to learning help to drive performance?
OTG Chief Creative Officer Raal Harris shares his thoughts about how a human factors approach to learning can help to drive performance.
We're going through a time of enormous transition in our industry.
We're seeing huge disruption through global and regional crisis and with disruption to trade and logistics, putting pressure on our supply chains and also changes to the way we work and live with the introduction of new technologies and automation.
There's also the need to move to a more sustainable operating models using less energy, moving to new fuels as we strive to meet important decarbonisation targets.
At the heart of all of this are our maritime professionals, our seafarers and those ashore that support them.
They're the ones who are going to determine the success or failure of all these initiatives, so making sure that they have the right knowledge and skills to perform to the best of their abilities has never been more crucial.
Recruitment
Just for good measure at the same time we're struggling to find the talent that we need.
We already had a shortage of officers before the pandemic and it's worse now, so it's not enough for us to be able to empower our seafarers.
We also need to be able to attract and to retain people and create organizations in which they want to work.
The human element
The importance of the human element is nothing new in our industry and for a long time it's been seen as the final frontier in risk reduction after various other measures and controls have been introduced.
OCIMF have made this a key area of focus putting out two significant pieces of guidance under the name human factors.
The first was the Human Factors approach document in September 2020, which explained the distinction from the use of the term human element to the broader term human factors.
Importantly this takes in not only what a human being might do and the decisions they make, but also the additional factors such as workplace design, systems and processes that might influence those decisions and in many cases may impede the human's ability to behave as desired.
These were further elaborated on in the document Human Factors Management and Self-Assessment, published the following year, which puts flesh on the bones with KPIs that can be used to measure performance against (caveat being that these were designed for the tanker trade).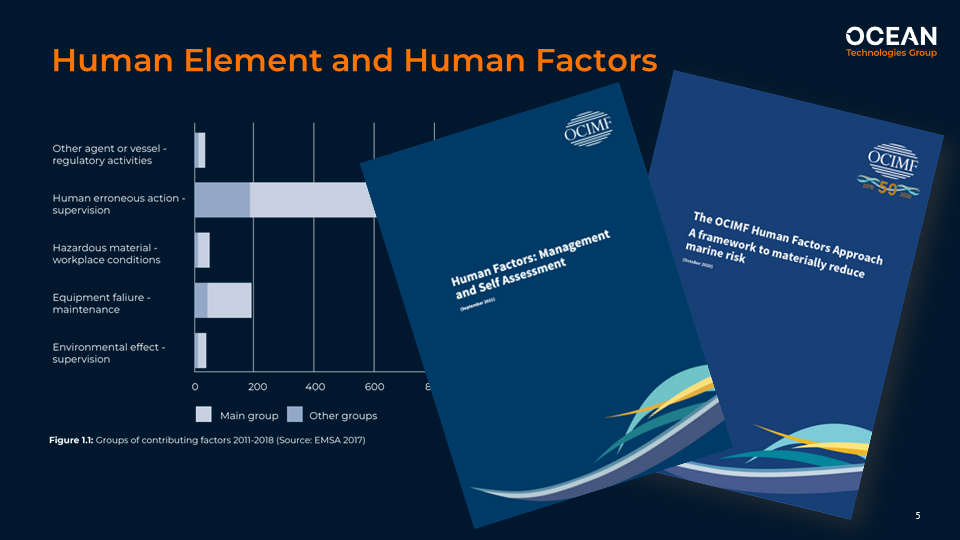 The potential to influence human performance
It is something all sectors should pay attention to because they have great potential to influence human performance.
As ESG and in particular new fuels come into play, all trades will find themselves pursuing that same agenda as we can see coming through with initiatives such as Dry BMS Standard, for example.
These documents lay out five pillars representing the focus areas to reduce risks to crew, ships and terminals.
It's leading and shaping the culture you want with well executed tasks and procedures, well designed equipment and controls, skills to respond to emerging situations and learning before and after things go wrong.
Each of these comes with a set of KPIs against which you can review your performance.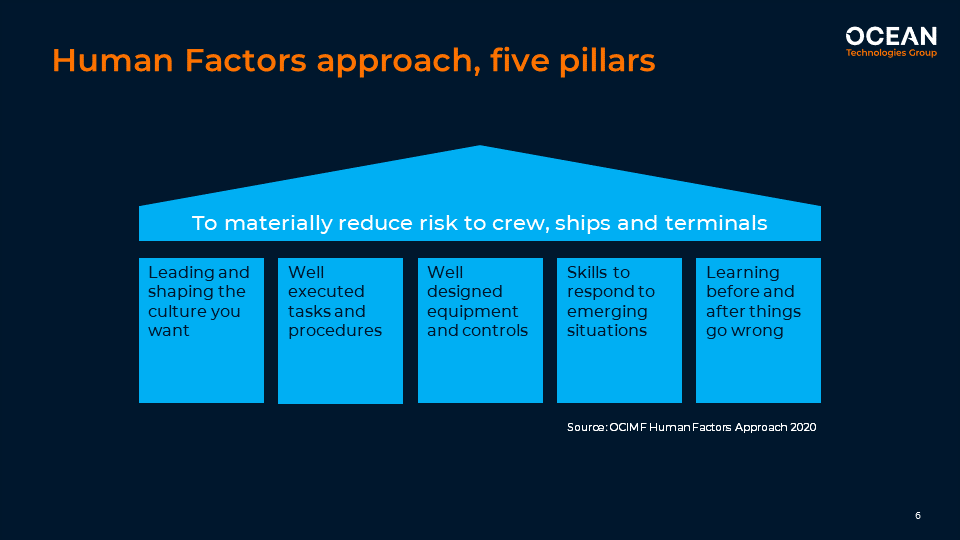 How can we get on top of these KPIs without overburdening already overstretched teams at sea and onshore?
The learning and shaping the culture you want pillar is the first in sequence for a reason because culture is the place to start.
It is often discussed in numerous forums increasingly looks like being key to solving many of the challenges we have as an industry.
The difficulties lie when your people aren't on board with your plans, in which case you're going to struggle to deliver them.
Culture eats strategy for breakfast
The phrase 'Culture eats strategy for breakfast' resonates in an uncertain world in which plans are subject to change and tactical decision making is required.
We also hear it said that culture is what people do when no one is looking which becomes crucially important with a remote workforce.
We need to think how we'll get people to want to do the right things and when they share our values, it shapes behaviour more effectively than it does through enforced rules. However when it comes to communicating and fostering our culture, we have some unique challenges.
As an industry, we're operating with an internationally culturally diverse workforce, working remotely and in teams that are frequently changing personnel.
There's different query models, employment regulations and all of these act as a barrier when we're communicating a consistent message and trying to foster that feeling of belonging and building your culture really starts with your values and often the simplest ideas are the best.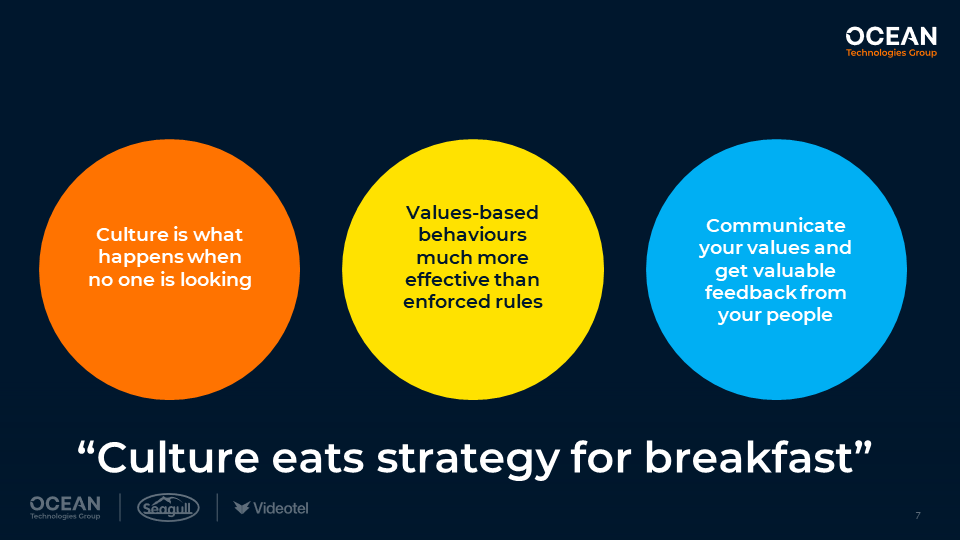 Tone from the top
At our recent seminar at Posidonia, we debated this and everyone agreed that it really needs to come from the top.
Fundamental ideas like using a rapid eLearning authoring tool to quickly convert videos and documents into a piece of content allows you to take, for example, a message from the leadership team and distribute it to the whole organization through your learning platform.
Two way communication
Communication isn't one way of course, and the human factors approach is very clear on the need to listen to the workforce.
To quote a level 3 KPI from the OCIMF Human Factors and Management Self-Assessment tool 'The company gathers information from the frontline and provides structured feedback on systems, conditions and tasks'
Using something like a pulse survey tool embedded in the learning management system makes it really easy to capture feedback and is really key to understanding the employee experience.
Understanding how people are thinking and the reality of what's happening in your organisation is essential to building the right culture.
Every ship has a microculture of its own of course, which is to be expected.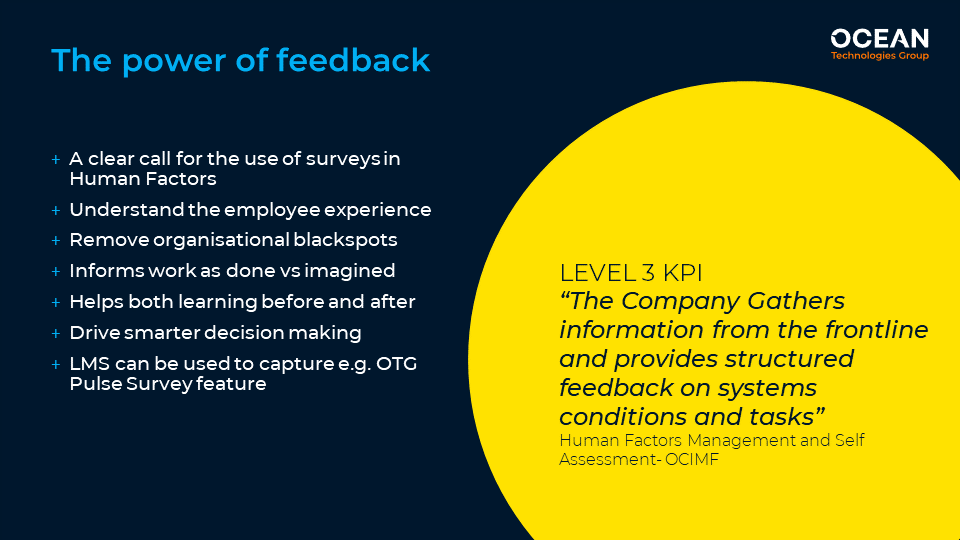 Consistency is key
We also need to build consistency and to try and create good working environments across the board, so consider how you can build that into your learning strategy.
eLearning isn't just suitable for safety and compliance training, it can be used to help you build a culture of care involving, wellbeing, diversity, leadership, bullying and harassment.
Your teams can use all of these resources to help build that culture. Naturally they demonstrate your commitment to a good workplace culture as well.
Training
Training is of course a key part of driving human performance and is identified in that second pillar of well executed tasks and procedures.
It also represents a broader investment in people, which is another key ingredient of building good workplace culture. Developing knowledge and skills with recognized qualifications can unlock new roles and responsibilities for individuals.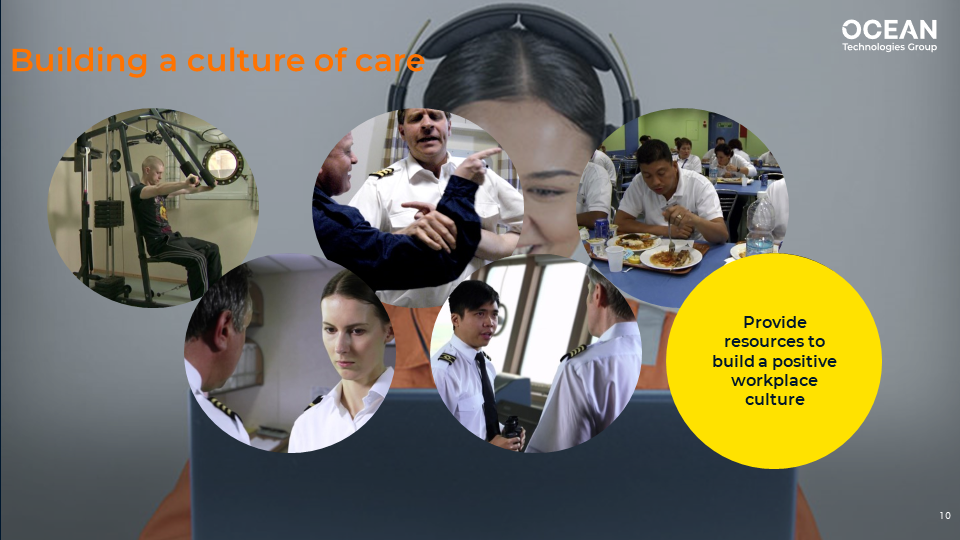 Competency management
Competency management systems provide a great opportunity for driving human performance although of course they are nothing new in our industry.
We know they are key to measuring improvement and for demonstrating that improvement to third parties in TMSA and suchlike but the HR benefits of competency management systems are often overlooked.
They are a great way of facilitating transparent, clear career progression and enabling succession planning.
Competency frameworks
They also encourage accountability and create opportunities for mentoring which is why we're seeing people like Intertanko, OCIMF and IMEC building out new competency frameworks.
Many organizations are also implementing competency management for their shore team as well, which is something that it is likely to become increasingly prevalent.
Finally they not only build competence, they also help build culture.
Competency frameworks offer a structured approach to managing, appraising and improving performance by reinforcing values and encouraging a common culture.
From the Intertanko, OCIMF and BCAB document it is now evident now building and assessing competencies and skills means we need to create more opportunities for people to demonstrate that they can apply their knowledge in real world scenarios.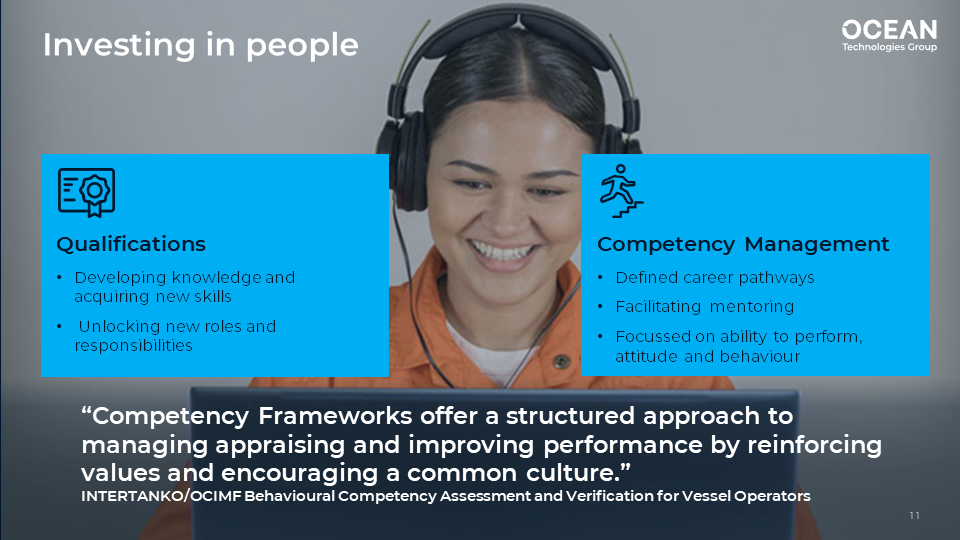 The role of learning technology
Coming back to the Human Factors pillars and the skills to respond to emerging situations, the level three KPI specifies that the company uses scenario based exercises to assess the effectiveness of training for safety critical activities by leveraging gaming technology and mechanics and of course, cloud simulation.
The ability to integrate pre-canned and customized simulator exercises into the learning and assessment process gives us a much richer picture of how our people are performing.
It allows us to examine behaviour and to see how people react to unforeseen circumstances.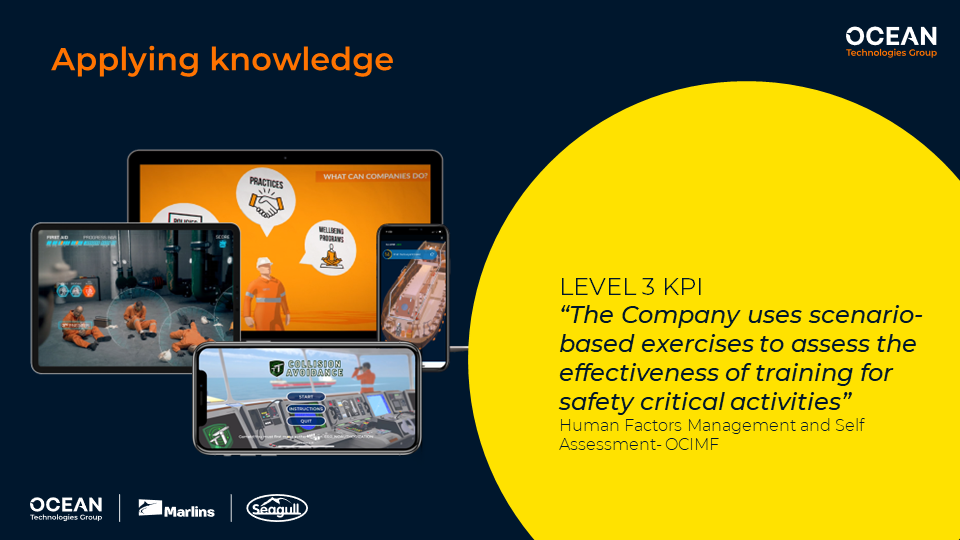 Key takeaways
We hope this article has given you an idea of how a human factors approach to learning can help to drive performance.
Naturally, it's a complex subject and is the subject of much discussion.
Some key takeaways include:
People are key to delivering the transformation we need in our industry
The Human Factors approach offers considerable benefits to ship operators, not just tanker operators.
All trades will benefit.
Culture is key.
Be creative in how you communicate it and think about how to get your message to your people.
Understand the employee experience, the post survey, make sure your messages are landing
Hear what's actually going on out there.
Invest in people, training, education, building skills, competency frameworks and career plans.
Create opportunities to apply knowledge, whether that's real world games or simulations for example.
Take advantage of these advances in technology to learn more about your people and what they're capable of.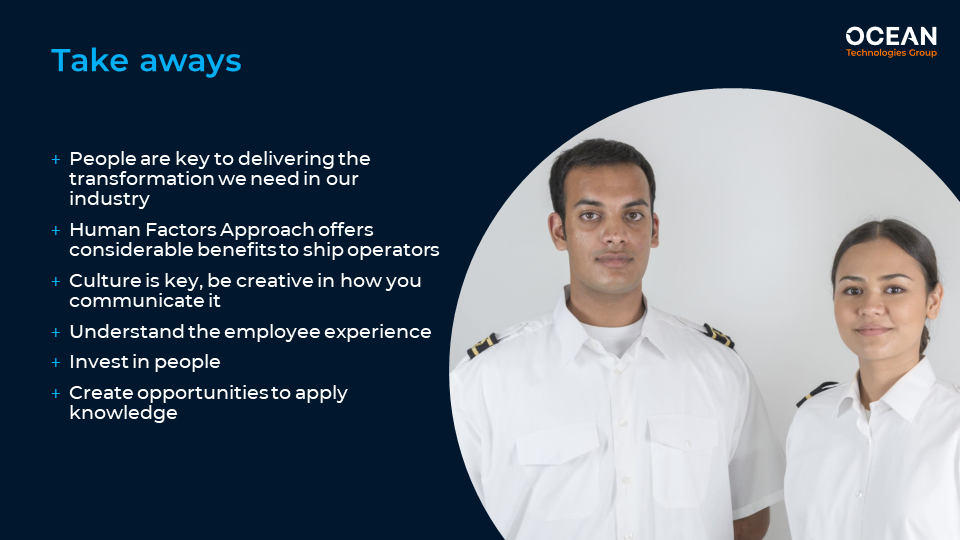 If you would like to know more about how we can help you, please
The maritime industry's best e-learning content
Unparalleled breadth and quality of content. We offer the most comprehensive library of maritime blended learning content ever assembled.