Ocean Learning training formats
Learning Titles
We firmly believe in a combined, blended learning approach to training and, as such, our learning titles portfolio contains  a combination e-learning modules, videos, reflective learning exercises and even learning games. This allows for a flexible  approach to training – whether in groups or by self study, we mix high drama, animation, tests and much more to deliver a first class learning experience.
E-learning
E-learning is a fast and efficient way to improve crew knowledge and awareness. Our E-learning titles use a combination of video, illustration, animation and interactivity to engage the learner and deliver the required learning outcomes.
E-learning titles enable individual crewmembers to work at their own pace checking their understanding as they work through the material. Each e-learning module is an individual training session with a final assessment at the end that can be used for record keeping, evaluation and benchmarking.
Learning videos
Our award-winning learning videos use combinations of documentary, drama and animation techniques to meet the training needs and learning styles.
Videos are ideal for group training, enabling you to get your crew up to speed on a subject in a single sitting and supplementary activities to enable group discussion and reflective learning.
Use videos in connection with onboard drills and exercises to maximise retention.
Pocket Guides
Pocket Guides provide a 'to the point' summary of a specific topic that can be used to raise awareness and act as a reference.
There is no assessment or self-test, but a a printable checklist, guideline is provided. A Pocket Guide has been developed as a supplement to the e-learning modules.
The guidance they contain is ideal for users who need a fast and easy tool that can be accessed anytime and anywhere.
Reflective learning
A reflective learning session is much more than just watching a film. With reflective learning, the group will discuss what they have just seen after each section of the learning film.
Each participant can contribute to the discussion and call on their experiences. The group can then consider how the topic relates to their everyday lives on board.
Reflecting in this way and discussing as a group will lead to a deeper and more rewarding learning experience.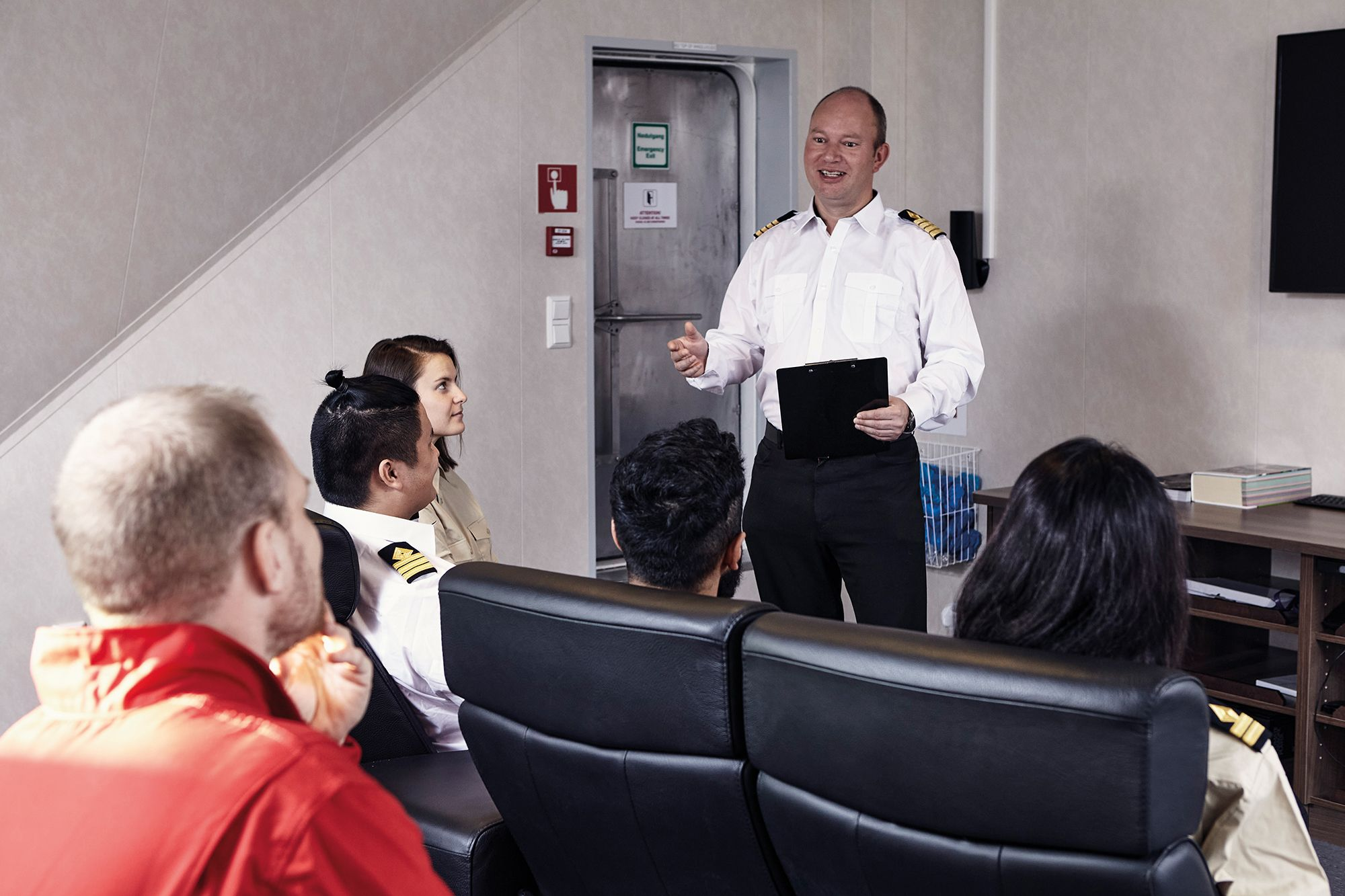 Certified maritime training courses
Our distance learning courses provide a cost effective way to build knowledge and obtain the certification you need. These courses can be done onboard or ashore in controlled environments, providing valuable third-party verification of the training completed.
Our courses comprise of a combination of e-learning titles and practical exercises and give seafarers the freedom to choose when they want to do the training.
Each course has a procedure and may include a workbook with practical exercises and a detailed description of how to complete the course.
Please note that to meet certification requirements, some courses must be taken onboard. Check individual courses for details.
Classroom courses
Our approved instructor lead courses are developed and run by our experienced in-house instructors at approved centres.
Accessible, repeatable, measurable – a learning solution for the 21st century vessel
E-learning is the optimal solution for the unique and unpredictable training needs of the maritime industry. It's accessible anytime, any place, anywhere, and at the point of need.
Learners can study at their own pace and repeat sessions any number of times at no additional cost. It also guarantees consistency and a common standard across your organisation.
Measurable digital records to support data analysis and reporting.
Competency Management System
Building careers, improvement and excellence
Rapid E-Learning
Design and deploy fast and efficient e-learning
Performance Appraisal
Digital appraisals to evaluate your crew
Pulse Survey
Measure and improve employee experiences
Discover an unparalleled breadth and quality of content
Over 800 blended learning titles