Ocean Learning Platform: the ultimate seafarer training experience onboard, onshore and on the move
Short time has passed since our big launch event for the Ocean Learning Platform. We covered a lot of ground in that hour-long session and, unsurprisingly, we've had a lot of requests for a summary of the main points.
We've put together this overview to provide you with the headlines and some additional information on the features and functionality that inspired questions during and after the session.
If you have any further questions, or would like to speak with our Sales Team, there's a button at the bottom of the page to send us a message.
Strengthening partnerships
2020 was a transformation year for Ocean Technologies Group, with a focus on alignment and unification of the brands, and a concerted effort to maintain the strong bonds we built with our existing customers and users. We invested in our service teams to ensure that the transition to Ocean Technologies Group was smooth and so that our customers would benefit from a broadened product suite and a worldwide team of fully unified Oceaneers.
Flexibility and control of content
Bringing together the extensive resource catalogues of the brands in the group, we are able to offer a title library, and repository of knowledge, of which we are extremely proud. The Ocean Learning Platform is also open to third party content, ready to include valuable content such as that from private library for streamlining.
Between our existing library and this personalisation, the Ocean Learning Platform offers an amazing breadth and mix of content and the suit any needs. Everything in one place makes learning effective & simplifies compliance and reporting obligations.
Not just the best of both worlds – the best of all worlds.
Immersive Simulations
A new breed of 'serious games' are being added to the Ocean Learning Platform, offering learners the ability to apply their knowledge to challenging scenarios. Using interactive video and immersive role-playing game-like simulations on their mobile devices. These go far beyond the standard click to proceed scenarios and improve comprehension of specific topics such as lookout and collision avoidance. Leader boards and recognition of progress add a competitive element that encourages users to improve their scores though additional practice.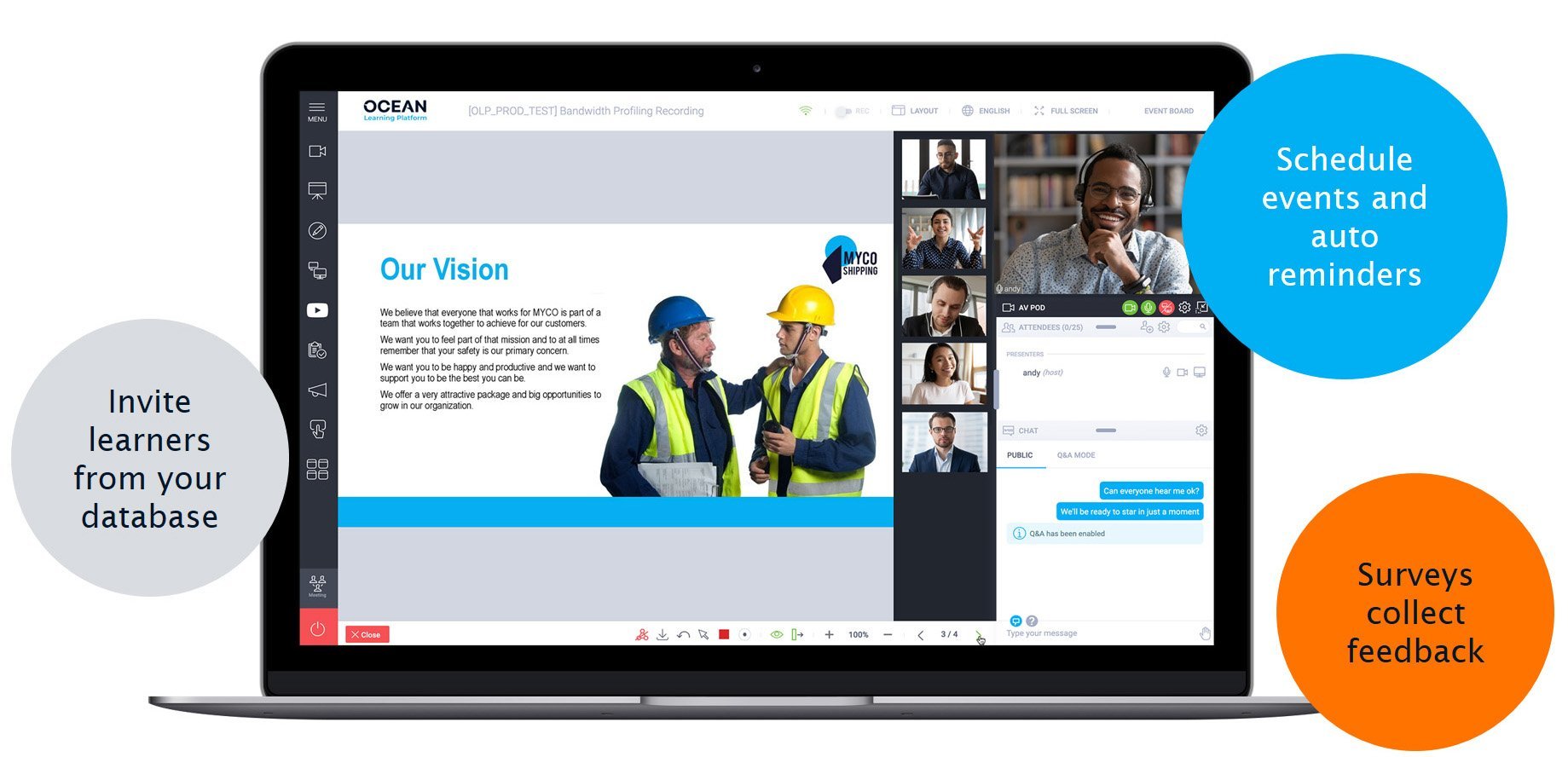 Virtual Classrooms
Our new Virtual Classroom enables the delivery of first-class, instructor led, training experience, to a global audience, from anywhere in the world. As part of the OLP, training delivered through the Virtual Classroom is seamlessly linked with learners' training records, plus
Existing OLP content will be available for use as resources in the Virtual Classroom
Screen sharing, video streaming and virtual whiteboards ensure increased engagement
Breakout rooms allow for group work and better replicate in-person training
User polls, surveys and assessments enable instant feedback from learners
Given the current climate, getting crews to training centres is increasingly challenging. The Virtual Classroom provides a connection between colleagues who are on shore with those on the ship, enabling virtual briefings and safe handover environment.
Better communication
Communication and alignment between seagoing and shore-based teams is critical to safe and efficient operations, and is also essential for crew morale, particularly in the current environment. The Ocean Learning Platform offers tools for disseminating key information, such as fleet circulars and bulletins, and our Pulse Survey tool which records questionnaire results per individual seafarer.
These tools are designed to help rapidly assess feedback, offer effective engagement and improve communication. Pulse surveys both record and archive data to provide longer term trend insights.
Data-driven decisions
Our comprehensive learning and assessment solutions, and experienced team, give you oversight of the full training record and competencies across your organisation, for a crew or for an individual.
We do the heavy lifting
For existing customers wanting to upgrade to Ocean Learning Platform, we have a dedicated project team on hand 24/7 to support your transition. Your account manager and our Customer Success team will work closely with you to agree a timeline and support a painless and seamless transition.
We remain committed to improving our customers' experience, and the new Ocean Learning Platform is open to anyone that will bring value to our customers. We aim to integrate with our clients' operational ecosystem and offer 'turn-key' experience, helping them move away from a world of multiple platforms and interfaces.