Helping you to meet the challenges of shipping in the digital age
Introducing the
OCEAN LEARNING PLATFORM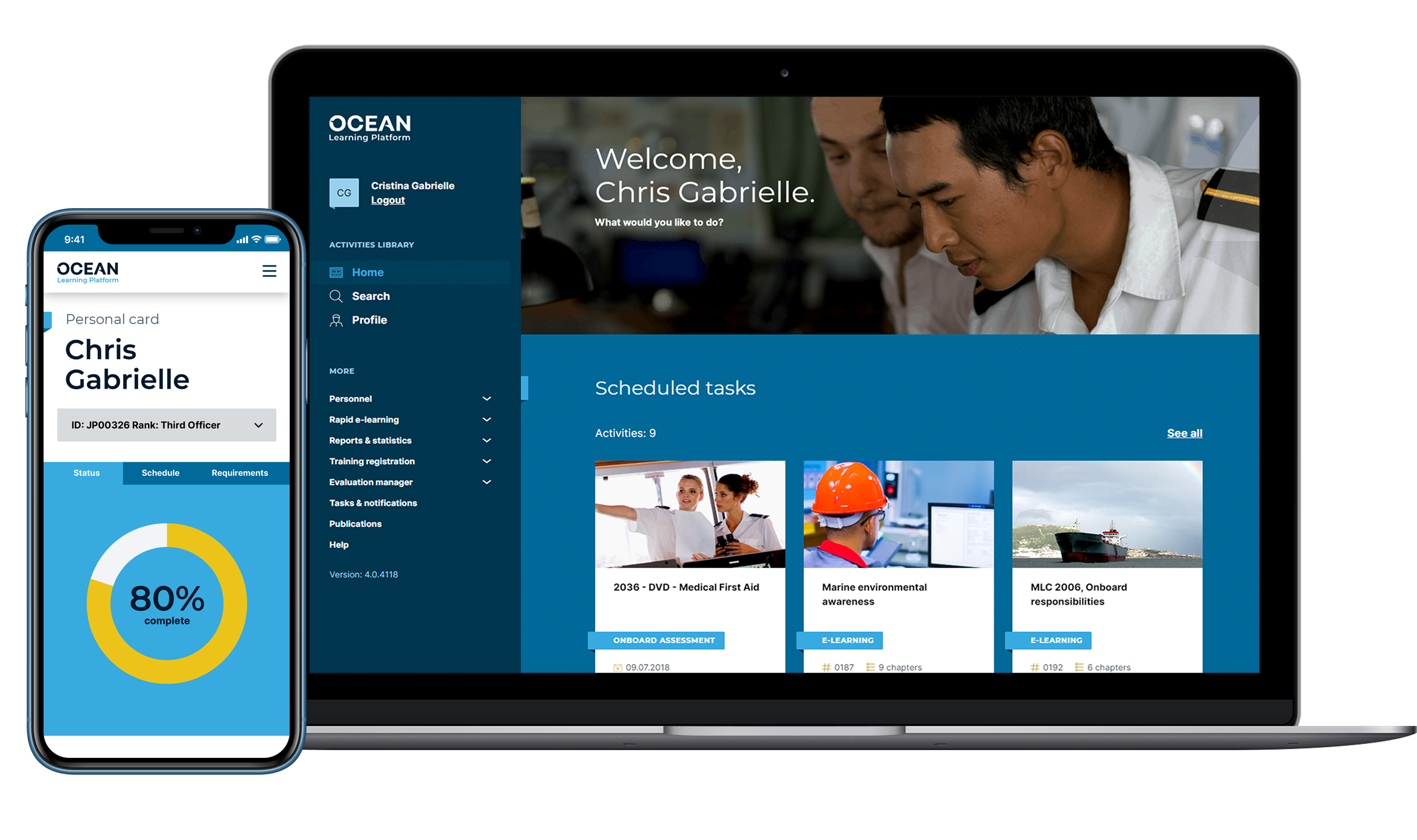 Best of breed learning platform
Exemplary user experience at its core. All the tools you need to plan, manage, deliver and report on your training across the fleet.
Best of both Seagull and Videotel

Improved intuitive User Experience (UX)
Renewed focus on seafarer engagement
An enterprise solution capable of uniting shoreside and onboard training initiatives
The most comprehensive library of maritime learning content ever assembled
Actionable insights into fleet performance
Greater ubiquity –online, onboard and on the move via our app
" It's important to demonstrate that you are keeping up to date with training programmes. Oil majors pretty much expect e-learning on-board."
Market Expert
Why e-learning?
Accessible, repeatable, measurable – a learning solution for the 21st century vessel
E-learning is the optimal solution for the unique and unpredictable training needs of the maritime industry. It's accessible anytime, any place, anywhere, and at the point of need.
Learners can study at their own pace and repeat sessions any number of times at no additional cost. It also guarantees consistency and a common standard across your organisation, as well as measurable digital records to support data analysis and reporting.
Competency Management System
We are pioneers in competency management and strongly believe in its power to transform organisations and individuals.
Our world recognised Competency Management System gives you valuable insights into the strengths and weaknesses within your organisation and sets you on your way to continuous improvement.
+ Measure performance
+ Assess who is ready for promotion
+ More rounded and accurate picture of skills than seatime alone
+ Demonstrate your commitment to quality
Why over 2,500 vessels rely on our Competency Management System.
Secure and scalable wherever you are
 Fully connected technology that works wherever it needs to We believe training should be available anytime, anywhere and at the point of need.
We don't rely on connectivity but where we have it, we use it effectively using our automated data exchange and extensive APIs providing secure connections to your data Scalable to any fleet size Training wherever you are
Why customers choose Ocean Technology Group
We're the partner of choice for the world's leading companies because:
We are powered by the most recognised names in maritime e-learning
We have unrivalled expertise, globally endorsed
We offer an unparalleled breadth and quality of training and the software that supports it
We provide expert consultancy and bespoke services to ensure your unique needs are met
When you work with us you get both a technology provider and a true partner that you can trust with your ship's most critical asset – its people.
Find out how we've helped some of the world's most successful companies utilise the power of e-learning to transform their businesses.