Latest additions to the Ocean Learning Library
Training library updates Q4 2022
As usual our Ocean Learning team have been keeping a close watch on Industry developments to identify new topics and ensuring existing titles on our library are up to date all with the aim of making sure your training needs are covered.
In the most recent update to the Ocean Learning Library, there is important new material on Human Factors to help prepare for the launch of SIRE 2.0, a vital new title and updates to our SEEMP energy saving material as well as a host of new partner material focussed on ship performance and cargo handling. This update also includes the first resource dedicated to reducing the risk of collisions with whales and other cetaceans to help protect the marine habitat.
There are also minor revisions to hazardous goods material and additional French language translations to provide learner support to key titles on Cyber Security, Marine Environmental Awareness and Bullying and Harassment.
Get Ready for SIRE 2.0
SIRE 2.0 is firmly on the horizon and promises to be a real game changer with a digitalise inspection programme transforming how inspections are conducted. It's important to ensure your crew are prepared with our new and existing SIRE e-learning titles.
SIRE 2.0, Human Factors – New Title
SIRE 2.0 assessments consider the factors influencing the likelihood of human error, such as workplace design, time pressure or workload. Performance Influencing Factors (PIFs) and the criteria that an inspector will use to judge crew performance are detailed in the 5th module in our SIRE 2.0 series, included in this update. This title provides learners with the necessary understanding of SIRE 2.0 and PIFs to identify and demonstrate to an inspector that they meet them.
We also updated our other SIRE titles last year in line with the latest developments to ensure key personnel have the latest learning.
Other SIRE Titles:
 #0436 – SIRE 2.0, Preparing for inspection
#0437 – SIRE 2.0, Pre-inspection and documentation
#0438 – SIRE 2.0, The ship inspection
#0439 – SIRE 2.0, The closing meeting
These e-learning modules are engaging and interactive and provide a comprehensive overview of the entire SIRE 2.0 inspection process with a summative assessment that can be used to evidence learning.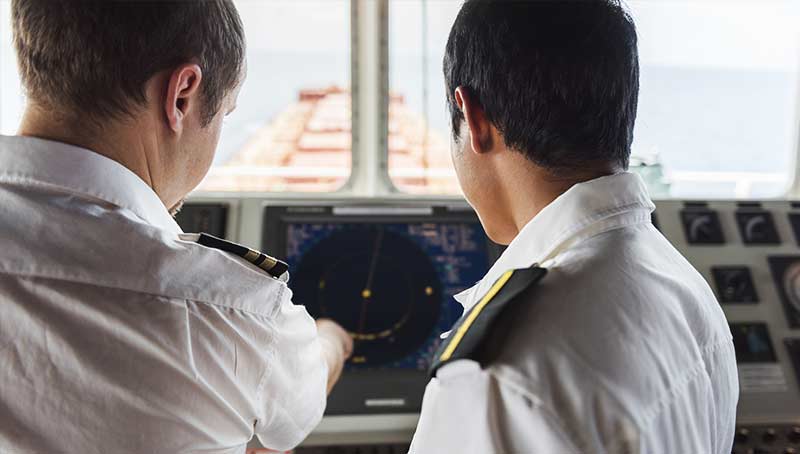 Unparalleled breadth and quality of content
We offer the most comprehensive library of maritime blended learning content ever assembled, with the full spectrum of learning needs covered.
We take a blended approach to content, including e-learning, videos for group viewing, interactivity in assessments and exercises to test the application of knowledge.
Ocean Technology Group can also extend your library with company specific material that you want to distribute, build e-learning to your requirements, and you can even design your own material using our Rapid E-Learning authoring tool.
Ensure your Energy Saving stays on course
As of July 2022, the IMO's has pushed further forward with a strategy to reduce CO2 emissions
across international shipping, by at least 40% by 2030, pursuing efforts towards 70% by 2050 and a further aim is that the total annual GHG emissions should be reduced by at least 50% by 2050 compared to 2008. Key to delivering that strategy is the Shipboard Energy Efficiency Management Plan which has undergone a number of revisions, the latest of which is a SEEMP Part 3.
SEEMP Part III – New Title 
There has also been a minor revision to our SEEMP part II title to reflect updates to IMO guidance.
Another important title to consider (if you haven't already) on IMO GHC reduction measures covers CII and EEXI, both of which have now entered into force.
Our Pledge
All our new titles and major new revisions are made in our latest OTG format which maximises learning efficiency and effectiveness by providing bite sized micro-learning units designed for today's learner to study onboard, online and on the move via our mobile app.
Safe Handling of dry bulk cargo – New Titles
Understanding the unique qualities of bulk cargoes and how they will behave during loading, transport, and discharge is critical to ensuring the safety of the crew, vessel, and terminal personnel and mitigating against claims.
Through a new collaboration between OTG and KeelX, it is now possible to utilise KeelX's cargo-specific training on the safe handling and transportation of coal, cement, and soybeans. The new titles provide learners with information and case studies that enable them to explore multiple dry bulk-specific scenarios, analyse unprecedented real-life situations, and break down recommended solutions.   
Ship Performance Optimization System
When performing route planning and optimisation, a master must factor in many variables, including safety, efficiency, navigation, costs, port rotation, ETAs, speed ranges and additional constraints, such as seakeeping. The Ship Performance Optimization System (SPOS) developed by DTN is a decision-supporting system to aid captains when planning routes and performing route optimisation, enabling them to reduce voyage costs while ensuring the safety of crew and ship.
This update to the Ocean Learning Library includes two new titles to help users of SPOS increase their understanding and get more value out of the system, specifically from the weather routing module and the Seakeeping Ship Motion module (developed in partnership with ABB).
Safeguarding Whales – New title
Collisions with ships are one of the greatest known threats to whales, dolphins, and porpoises. This update to the Ocean Learning Library includes e-learning developed by the World Cetacean Alliance that illustrates measures to reduce the likelihood of ship strikes and boat disturbance on cetaceans.
Relevant to all commercial vessel operators, the learning covered by this title contributes to improved safety for the crew, passengers, vessels, and the wider marine environment.
What's planned for Q1 Release
Our Q1 23 release promises to be one of the biggest yet with a major update to some of our most used titles taking them into our new micro-learning adaptive ready format.
Are you up to date?
We send a summary email every time we add or update titles in the Ocean Learning Library. Use the button below to sign up for these emails, and never miss an update.
Explore new and revised titles
New titles in this release:
| | | |
| --- | --- | --- |
| Title Number | Title name | Link to the title |
| #4182.01 | KeelX, Safe Handling and Transportation of Coal | view |
| #4182.02 | KeelX, Safe Handling and Transportation of Cement | view |
| #4182.03 | KeelX, Safe Handling and Transportation of Soybeans | view |
| #4188.01 | DTN, DTN SPOS: become a weather routing expert | view |
| #4188.02 | DTN, DTN SPOS Seakeeping | view |
| #4169 | WCA, Becoming 'Whale Aware' | view |
| #0638 | SEEMP Part III | view |
| #0440 | SIRE 2.0, Human Factors | view |
Updated titles (Minor and Major Revisions):
| | | | |
| --- | --- | --- | --- |
| Title Number | Title name | Update | Link to the title |
| #4179 | Maritime Wellbeing, Stepping Stones to Health and Wellbeing | Free title | view |
| #0141 | SEEMP Part II, The IMO DCS and EU MRV | Guidance updated | view |
| #4064 | Cyber security, Awareness | Translation Added | view |
| #0394 | Marine environmental awareness, Protecting the environment | Translation Added | view |
| #0393 | Marine environmental awareness, The diverse environment | Translation Added | view |
| #0390 | Harassment and bullying | Translation Added | view |
| #0151 | HAZMAT – IMDG Code, Advanced | Guidance updated | view |

The ultimate in maritime e-learning
Accessible, repeatable, measurable – a learning solution for the 21st century vessel, available wherever you are in the world.